Stories of monsters and ghouls and ghosts, ancient curses and witchcraft have been a part of folklore for ages, but there was something to this new film by Universal Pictures that reinvigorated the fledgling genre. Under new management, Universal Pictures went back to the horror formula and had great success. They decided on a werewolf story and put George Waggner in charge as producer and director of the film that would come to be known as THE WOLF MAN. THE WOLF MAN is indeed something special and nearly 70 years later is still considered one of the top films from Universal's B Unit and many say it is "the last great Universal horror." The cast and crew have a great deal to do with this success as director/producer Waggner put together some of the finest actors and artisans, but it all begins with a screenplay. Universal had attempted to make a werewolf film in 1935 with mixed results. As producer, Waggner decided to start f resh and ignore THE WEREWOLF OF LONDON, opting instead to have German émigré Curt Siodmak write a fresh narrative for this new programmer.


Curt Siodmak was born in 1902 in Dresden, Germany. In the late 1920s, Siodmak began to write novels and screenplays in his native country until departing in 1937 after hearing several of Joseph Goebbels' comments on the Jewish community. He traveled to America where he soon found success as a screenwriter and director. His two most famous creations were DONOVAN'S BRAIN and the 1941 hit THE WOLF MAN. Aside from all the ancient folklore and old wives' tales surrounding lycanthropy, Siodmak injected a bit of his personal experiences in the early days of Nazi Germany to the script. In this film, lycanthropy was treated as a mental disorder as much as it was treated as a supernatural force. The famous verse of the werewolf legend repeated throughout the film, "even a man who is pure in heart and says his prayers by night, may become a wolf when the wolf's bane blooms and the autumn moon is bright" takes on a new meaning under the circumstances of Siodmak's feelings on Nazi Germany.


Filmed on the Universal backlot in 1941 as a quickie to add to the ever-growing stable of monsters of Universal St udios, "The Wolf Man" went on to become a greater hit than expected and went on to make a star of Lon Chaney Jr. Chaney had worked regularly on the Universal lot for about a decade when he got his star making turn, but had been around the studio his entire life because Chaney's father, Lon Sr., and his mother, Frances Cleveland Creighton Chaney, were both actors. Following his father's death in 1930, Jr. began acting under his real name, Creighton Chaney.
In 1935, Universal requested that he change it to Lon Chaney Jr., capitalizing on the success of his father. By this time Chaney was best known for his role as Lenny in 1939's OF MICE AND MEN, but after this film hit theaters in December 1941, that would be forever changed. The film made millions for Universal and according to horror film scholar and historian Tom Weaver, Chaney reportedly received more fan mail than any other star on the Universal lot. Chaney is very sympathetic as Larry Talbot, whose unfortunate fate dooms him for all eternity and Chaney, like Lugosi and Karloff before him, was pigeonholed as a horror actor and doomed to spend the majority of his career in low budget horror films.
Joining Chaney on this excellent film was Claude Rains. Rains began his film career with the Universal Monsters, playing the title role in James Whale's THE INVISIBLE MAN in 1933. He would spend the next fe w years going back and forth from B movies like THE CLAIRVOYANT and THE MYSTERY OF EDWIN DROOD and A Level films like MR. SMITH GOES TO WASHINGTON. His role in THE WOLF MAN as Sir John Talbot is well played and the following year, Rains would play the part he is perhaps best known for, Captain Renault in the timeless classic CASABLANCA.
Unlike Chaney, Rains would spend the rest of his life working on higher end features.

In a case of "how the mighty have fallen," Bela Lugosi turns up in this film as well. The once mighty horror box office lion had by this point been reduced to a very small (but pivotal) role in a film of a genre he helped create, for a studio he kept from bankruptcy ten years earlier. The 1940s were lean years for Bela, but they were better than the late 1930s, where the actor went bankrupt and lost his home. 1939's SON OF FRANKENSTEIN made Lugosi financially solvent again and his wonderful, show stealing performance as Ygor in that film led many to believe that Bela would be given better roles by the studio he saved a decade prior. No such luck.
Lugosi would only find starring roles in "poverty row" studios like Monogram, Republic and the dreadful PRC. Lugosi appears briefly here as Bela the Gypsy, but his character does effect the rest of the film greatly. Looking at Lugosi at this time, was like looking into the future of Chane y. Within ten years of THE WOLF MAN, Lon would develop a drinking problem and star in such trash as BRIDE OF THE GORILLA, a film unworthy of his presence.
A veteran performer in Russian theater and member of the Moscow Art Theater, Maria Ouspenskaya studied under the legendary Constantin Stanislovsky and taught his "system" here in the United States. She founded the School of Dramatic Art in New York City and even taught future star Anne Baxter during her stint in New York. In 1936 she received her only Academy Award nomination for Best Actress in a Supporting Role for LOVE AFFAIR. Ouspenskaya is one of the standouts of THE WOLF MAN, playing Maleva the Gypsy, mother of Bela and the woman who teaches Talbot about lycanthropy. The film's most revered lines of dialogue, the gypsy's curse and the prayer for the dead, are recited by the wonderful Ouspenskaya.
She would reprise her role as Maleva in FRANKENSTEIN MEETS THE WOLF MAN in 1943 and continue acting until 1949. Her death in 1949 is still just as tragic today as when it was announced. Ouspenskaya, a heavy smoker, fell asleep with a lit cigarette and suffered severe burns before dying of a stroke three days later. She was 73.

While not a big name at the time, Ralph Bellamy would go on to a wonderfully diverse career spanning six decades. Bellamy would have supporting roles in films such as HIS GIRL FRIDAY and would appear on another Universal monster, THE GHOST OF FRANKENSTEIN. He would receive great critical acclaim for his portrayal as President Franklin Delano Roosevelt in 1960's SUNRISE AT CAMPOBELLO. He also played the sinister Dr. Sapirstein in Roman Polanski's 1968 classic ROSEMARY'S BABY. In the 1980s, he had supporting roles in a spate of films by John Landis including the role of Randolph Duke in TRADING PLACES and a cameo in COMING TO AMERICA reprising that role. His final role came in 1990's PRETTY WOMAN. He would pass away at age 87 in 1991.

The beautiful Evelyn Ankers is considered by some to be the first scream queen. A regular in Universal B programmers, Evelyn's beauty and sophistication were very welcome in many of the top Universal horror films of the 1940s. In THE WOLF MAN, Ankers plays Larry Talbot's love interest Gwen Conliffe. She went on to have supporting roles in many Universal horrors including THE GHOST OF FRANKENSTEIN, CRAZY HOUSE, SON OF DRACULA, THE MAD GHOUL, THE FROZEN GHOST, THE INVISIBLE MAN'S REVENGE and two Sherlock Holmes films made by Universal, THE PEARL OF DEATH and SHERLOCK HOLMES AND THE VOICE OF TERROR. Her final performance came in 1960's NO GREATER LOVE. Long retired from the film business, she passed away in 1985.

Until one week before production, the role of Conliffe's fiance, Frank Andrews, was to be played by Universal regular Dick Foran (star of the previous year's THE MUMMY'S HAND). Foran was replaced by Warner Bros. contract player Patrick Knowles, who had been on loan to Universal. Knowles had been around for over a decade and was probably best known for portraying Will Scarlett in 1938's THE ADVENTURES OF ROBIN HOOD. He would star in a few more Universal horrors before becoming a regular in television appearing on such shows as "Family Affair," "Gunsmoke," and "Have Gun - Will Travel." He, like Ankers, would retire from the business for two decades before passing away in 1995.
Larry Talbot returns to his ancestral home following his brother's death, after being away for 18 years. There was a rift between Larry and his father, Sir John, stemming from his brother's being named the heir to the Welsh estate. While testing the lenses of his father's new the telescope, Larry gets a glimpse of the beautiful Gwen Conliffe in her bedroom above her father's shop. Instantly smitten, Larry goes to the shop and finds her working behind the counter. After buying a wolf's head cane with a silver tip, he charms her into a date despite her telling him that she is engaged.
When Talbot comes back to pick up Gwen, he finds she has brought a friend along, apparently to try to set Larry up with her. The three go to a nearby gypsy camp to have their fortunes told. Gwen's friend Jenny goes in first. Her fortune teller, Bela seems very disturbed when she brings a bouquet of wolf's bane in with her. He reads her palm and sees a pentagram in her hand. He urges her to go and Jenny runs as Bela transforms (off-camera) into a werewolf. He chases Jenny down and begins to tear her to shreds when Larry, hearing Jenny's screams run over to help. The wolf bites Larry, before it is overpowered and beaten to death by Larry's cane.
Bela's mother, Maleva, takes them back to Talbot's mansion. The police investigate the scene and find that there is no wolf body, but the body of Bela. The police come to the conclusion that Jenny Williams was attacked by a beast and both Larry and Bela came to her aid and while attempting to save the girl, Larry accidentally killed Bela. Larry can't believe he killed a man and is more rattled when told by Bela's mother that her son was a werewolf and that Larry will be one as soon as the moon is full.

The plot of THE WOLF MAN is reminiscent of Greek tragedies where the heroes and villains often are victims of circumstances beyond their control. The character of Talbot is by far the most tragic of any in the Universal oeuvre. Dracula is a force for evil driven by lust and power, The Invisible Man is scientist driven to the brink of lunacy because of his newfound power, The Mummy is a zombie doing the bidding of his master and the Frankenstein monster is a composition of dead body parts with a criminal brain.
Larry Talbot is a regular guy who, while out on a date, tries to do the right thing and is bitten by a supernatural beast. During his waken hours, Talbot is torn by the beast he fears he may become at night and being a nice, right-minded man who only wants to do what is right. That is the key to the enduring power of this masterpiece.

The unsung heroes of this piece are the wonderful set designers and set decorators. The atmosphere of this film is greatly enhanced by the wonderful forest sets that accompany the oft-used "European Street" set of the Universal lot. This production was given the sprawling Stage 12 on the Universal lot and very little money to go toward building sets.
As luck would have it, a grove of walnut trees were being torn down by developers in nearby San Fernando Valley and Robert Boyle, an associate of Art Director Jack Otterson arranged for Universal to buy the torn down lot. The trees, already bare of foliage, were trucked into the studio and painted black by Boyle. The black paint gave the dead trees an ominous glow and the addition of fog only enhanced the eeriness. The 30 trees were spread out nicely, covering an area of roughly 100 x 200 feet of the soundstage.

For the church scenes, Un iversal shot on another famous set, Notre Dame. The beautiful cathedral set was used two decades prior for one of Lon's father's most famous roles as THE HUNCHBACK OF NOTRE DAME. The wide shots showing the full scope of the cathedral were scrapped, perhaps Universal realized that such a huge cathedral would be out of place in Whales. The studio stuck with close-ups and interiors and it's barely recognizable to most viewers. Also missing from the final print is a scene involving a wrestling match between a man and a bear. One day during the production, the bear broke free from its chains and chased poor Evelyn Ankers up to the rafters of the sound stage.

The film had other problems too. Evelyn Ankers and Lon Chaney may have had wonderful chemistry on camera, but the two did not get along once the cameras stopped rolling. Apparently, Chaney loved to sneak up on Evelyn in full Wolf Man makeup and scare his then 22 year old co-star. Production also had to be stopped when while shooting the finale, Claude Rains had accidentally whacked Chaney full force with the ten pound prop cane. Chaney had to be sent home because of a badly blackened eye and a lot of swelling.

The film wrapped in November of 1941 and went through a very speedy post-production. It was released to theaters on December 12, 1941, one week after the attack on Pearl Harbor. Many of the reviews were less than flattering with Variety calling the filmmakers to task for making this type of film in such grim times, ignoring the fact that the film had started production in October, well before the unfortunate attack on Pearl Harbor.
The New York Daily News and New York Times weren't much kinder, with the Times in particular stating the film isn't very imaginative in their December 22, 1941 review. Amazingly, this happens all the time with horror films. Critics are rarely impressed by them when they first come out, but then hail them as classics later on.
THE WOLF MAN, like yesterday's film, NIGHT OF THE LIVING DEAD, don't deserve the harsh criticisms laid on them by the critics of the time and are now regarded as true classics of the genre. Makes you think about the hatred many of today's genre pieces inspire from critics, doesn't it?

As a big fan of THE WOLF MAN, I have collected some of the original movie materials (the few I could afford for a film this old.):

The above is an original 1941 publicity photo. I bought it and then framed it myself.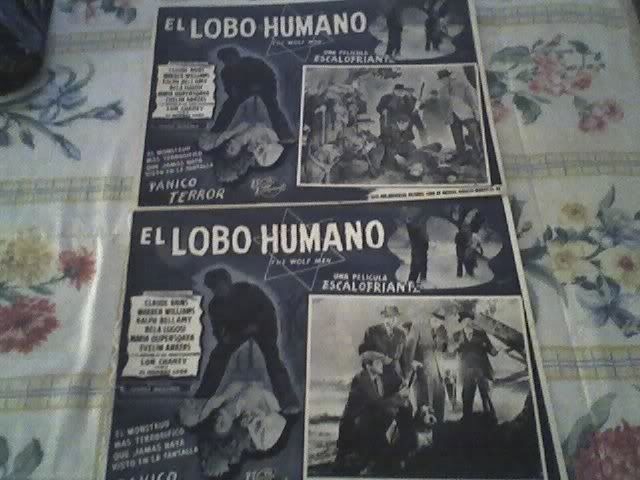 A pair of Mexican lobby cards from the original release.

A Mexican lobby card from 1941 that Michelle had framed professionally for my birthday this year.
ALSO IN THIS SERIES:
THE 31 GREATEST HORROR MOVIES COUNTDOWN BEGINS
Randazzo: Looking at the immortal classic Night of the Living Dead!