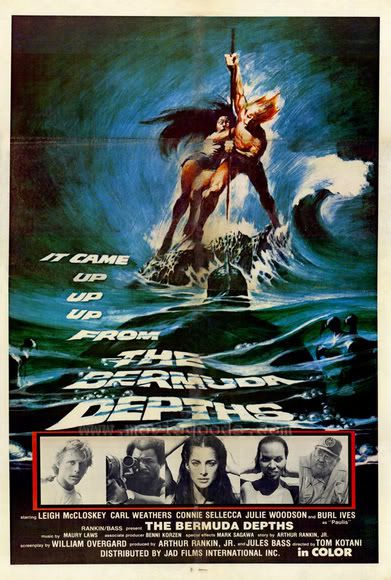 When most people think of Rankin/Bass, they think of holiday TV specials. Who among us hasn't seen RUDOLPH THE RED NOSED REINDEER, SANTA CLAUS IS COMING TO TOWN, THE EASTER BUNNY IS COMING TO TOWN or even MAD MONSTER PARTY. But I am willing to bet that most of you are not aware of a little known TV horror movie from the 1970s called THE BERMUDA DEPTHS.
Magnus Dens is a dropout from multiple colleges. It's not that the kid isn't bright, his head just isn't in the game and who can blame him? His mother was lost at sea when he was still a child and his father disappeared during a storm while working on an experiment in his lab. Magnus has spent his young adulthood being passed off from relative to relative, college to college and even spent time in a mental institution. He just can't catch a break, so he returns to his hometown to find out what happened to his father and put his mind at ease. He finds work with Professor Paulis (the wonderful Burl Ives) thanks to his friend Eric (Carl Weathers). Professor Paulis is researching the infamous Bermuda Triangle and what lurks beneath those waters that causes ships to vanish. He and Eric use heavy nets to drag20the waters only to keep finding massive holes in the nets. They come to the conclusion that whatever is making these holes must be enormous.
Magnus has become obsessed with a local legend. A woman by the name of Jennie Haniver appears to him consistently for make-out sessions in the water or at his father's old estate on top of a cliff overlooking the sea. When he mentions this to Paulis, he is told to stop being foolish. Soon Paulis' help regales Magnus with the legend of Jennie Haniver. Jennie was on a ship with her father in the early 1700s that was caught in a storm. She prayed to the spirit in the triangle to spare her because she is too young and too beautiful to die. She is instructed by whatever it is to jump into the sea and so she does. Her father and his crew die and Jennie lives on eternally in the sea. Magnus believes none of this. He recalls meeting Jennie as a child. They found an egg on the beach and watched as a baby turtle hatched. Magnus carved a heart and the initials "J" & "M" on the turtle's shell and remembers that on the day of his father's disappearance, Jennie swam away into the sea clutching the turtle's shell.
Eric grows tired of torn nets and decides to venture out into the sea one more time. This time he will take with him "the horror," a gun that=2 0he will use to shoot whatever is tearing the net in the triangle. Paulis will have nothing to do with it, but Eric will go anyway. He takes Magnus with him in the hopes of finding out what lies in THE BERMUDA DEPTHS.
This is a hard movie to track down! It has never been released on DVD and amazon.com has it listed at a whopping $139.00 on VHS! But rest assured I have found a pretty good version that comprises the edited VHS tape with scenes restored from the original TV print and for that I have to thank Rick Goldschmidt of
www.enchantedworldofrankinbass.blogspot.com
. Rick is one of the foremost historians of Rankin/Bass productions. He is the author of
Rudolph the Red-Nosed Reindeer - The Making of an Animagic Classic
and
The Enchanted World of Rankin/Bass
and has written the liner notes for many of the DVD releases of Rankin/Bass hits. He also sells the rarer films through his website. This composite DVD is as good as it looks like we're going to get for this film and this DVD, while not perfect, does the film some justice. Obviously taken from VHS masters, the cuts from the commercial print to the TV print are noticeable due to the drastic change in picture and sound quality, but edited so seamlessly, not a nanosecond is lost.

Equal parts ghost story, love story and giant monster movie, THE BERMUDA DEPTHS is worth seeking out for any fans of TV horror films, 70s horror and sci-fi or simply fans of the Rankin/Bass films. Whichever category you fall under, you won't be disappointed!